Chevy Scheduled Maintenance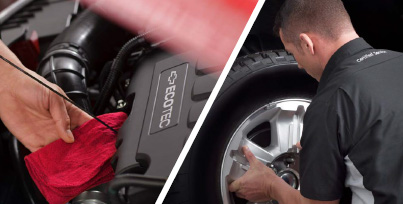 Bumper-to-Bumper Limited Warranty (including tires):
Coverage is for the first 3 years or 36,000 miles, whichever comes first.
Powertrain Limited Warranty:
Coverage is for the first 5 years or 60,000 miles, whichever comes first. 2500 and 3500 Series Heavy Duty (HD) Pickups equipped with a 6.6L Duramax Turbo-Diesel engine are covered for 5 years or 100,000 miles whichever comes first. Certain commercial fleet and/or government fleet vehicles purchased under a qualifying fleet account number are covered for 5 years or 100,000 miles, whichever comes first. A Qualified Fleet User is defined as a company that has purchased and registered or leased five (5) or more new cars/or trucks solely for use in its operation during the current or preceding calendar year, model year, preceding twelve (12) month period, or that owns or leases fifteen (15) or more cars and trucks. Excludes rental customers.
Chevrolet Included Maintenance
Chevrolet includes two scheduled maintenance visits with the purchase or lease of new 2017 Chevrolet models.
Chevrolet Included Maintenance includes only the following:
Two maintenance visits within 2 years/24,000 miles (whichever comes first)
ACDelco dexos1®Oil and ACDelco Oil Filter Change (excludes Bolt EV)
4-wheel Tire Rotation (excludes dual rear wheel vehicles, all Corvette models and select Camaro models - ZL1 model and 1LE package cars – due to their unidirectional tires; see Owner's Manual for details)
27-Point Vehicle Inspection (MPVI)
Courtesy Transportation Program
If your vehicle requires warranty repairs during the Limited Powertrain Warranty coverage period (8 years/100,000 miles for repairs warrantable under the Hybrid/Electric Propulsion Limited Warranty), alternate transportation and/or reimbursement of certain transportation expenses may be available under the Courtesy Transportation Program. Several transportation options are available. Rrefer to the Owner's Manual for details. Courtesy Transportation is not part of or included in the coverage provided by the New-Vehicle Limited Warranty. General Motors reserves the right to make any changes or discontinue the Courtesy Transportation program at any time without notification.
Roadside Assistance Program
Chevrolet is proud to offer the response, security and convenience of the 24-Hour Roadside Assistance Program. Roadside Assistance is provided with all purchased or leased GM vehicles that are within the Powertrain Limited Warranty.
Emergency Towing (from a public road or highway to nearest Chevrolet dealer)
Lockout Service (keys locked inside vehicle)
Flat Tire Changes (service to change a flat tire with the spare tire (if equipped))
Fuel Delivery (enough fuel for vehicle to get to the nearest service station)
Jump-Starts (service to jumpstart a dead battery)
During the 8 year or 100,000 miles Electric Propulsion warranty period, towing is covered to the nearest Chevrolet servicing dealer if your vehicle cannot be driven because of a warranted Electric Propulsion specific defect.
Refer to your Owner's Manual for details, including reservation of rights, or consult the dealer. --For specific terms and conditions, please contact your Chevrolet Roadside Assistance Program advisor at 1-800-243-8872.
Why Scheduled Maintenance is Important
The included scheduled Maintenance Services are key components to help provide optimal operating performance and safety of your Chevrolet vehicle.
Tire Rotation
Properly aligned and inflated tires help you maximize fuel economy and enhance the performance of the safety features such as anti-lock brakes or the StabiliTrak stability enhancement system.
Oil Changes
Regular oil changes can help improve the performance and fuel economy of your new vehicle. Your vehicle's Oil Life Monitoring system (OLM) can actually monitor your personal driving habits and your area's climate conditions to let you know precisely when to come in for an oil change. When the OLM light comes on, you come in. It's that simple. It'll help you save money and help reduce oil waste.
27-Point Vehicle Inspection
The Certified Service Technicians at our dealership will provide a detailed vehicle inspection with your two included oil change services, so you can be sure your two included oil change services, so you can be sure you get the most service value from each maintenance visit.