Sales Frequently Asked Questions
Frequently Asked Questions
Q: What are the benefits of financing through a dealer?
We have a program in place for first time buyers
Everything is done in one stop
We have built relationships with our lending sources to get you competitive rates
Multiple lender options to best fit your needs
We have manufacturer subsidized lower rate
We have financeable extended service contracts
Q: Should I Buy or Lease?
Learn the Difference Between Buying and Leasing
Americans change cars every three to four years. When you trade in your car, your decision to purchase or lease a Chevy or Subaru depends on your individual needs. If you're looking for the feeling of ownership, a car you can put a lot of miles on, or to drive the full life of the car, you may look into purchasing your next vehicle. Otherwise, we recommend leasing as viable option. When you purchase your Chevy or Subaru, you finance the whole cost of the vehicle, while leasing only pays for the depreciation over the term of the lease. After your lease term, you can purchase the car based on the guaranteed future value established at the beginning of your lease, sell or trade the car and keep the equity, or walk away with no negative equity and find a new lease or purchase a different vehicle. Whether you're looking for the long term commitment of purchasing a vehicle or the ability to get a feel for your vehicle with a lease, you'll find an incredible Chevy or Subaru selection and fantastic savings at Roy Robinson Chevrolet.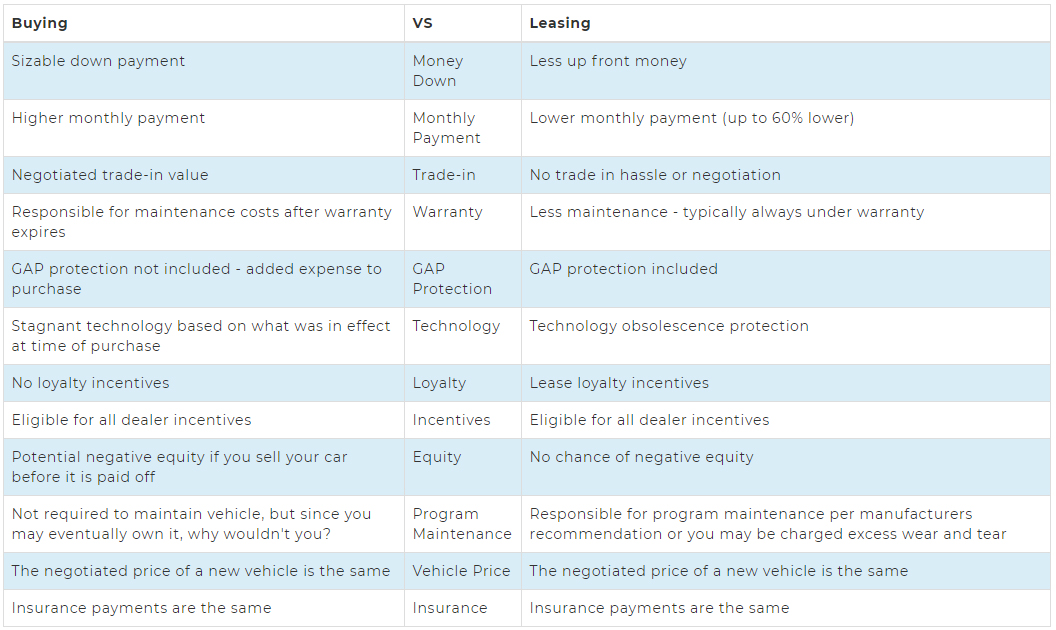 Should I trade-in my vehicle? Or sell to a private party?
Let's take a look at your options and highlight the advantages between the two:
Trade-In Advantages
You get a tax discount on the price difference
You easily walk in and walk out with another vehicle
You don't have to worry about insuring multiple vehicles
No need to deal with unreliable buyers
All the licensing and bill of sale paperwork is handled for you
We will payoff the amount owed for you (if any) and work it into the new loan (no need for you to deal with your lender)
Now let's take a look at the disadvantages:
Trade-In Disadvantages
You may get less for its value due to the overhead in reconditioning the vehicle to make it safe and clean for the next buyer
Private Sale Advantages
You could get more for its value if you find the right buyer
Private Sale Disadvantages
You don't get a tax discount when purchasing your vehicle
It will take time and effort to list your vehicle and to find a buyer
You will still have to pay to insure the selling vehicle if you plan on driving it while waiting for a buyer
There are a lot of unreliable shoppers, which can become stressful
You will be responsible to create a bill of sale and deal with the DOL
If you plan on reconditioning the vehicle to make it more presentable to a buyer, that adds time and expense
If you still owe more than what it's valued at, you will owe the remainder to your lender at the time of sale in order to produce the title, which also takes time that your buyer may not be willing to wait for